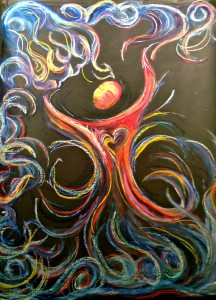 A sermon from the climatic moment of the Exodus story just after the Israelites have leftEgypt. Pharaoh and his hard heart cannot let them go, pursuing them to the edge of the Reed Sea, even after the plagues, the darkness, the pleading and the dying, even after his promise to let them go… and so we find them here, Pharaoh's army at their back and God's turbulent waters lapping at their toes…
Exodus 14:10-14, 21-29 (Narrative Lectionary, Year 1)
 For to be free is not merely to cast off one's chains,
but to live in a way that respects and enhances the freedom of others.
~Nelson Mandela
Exodus 14:10-14, 21-29
When I was a teenager, maybe fourteen or fifteen, my small, economically depressed, town in Iowa decided what would really turn things around was a water park. And so they upped the sales tax and built "The Beach (Ottumwa Beach)"… "The Beach" which was, more or less, an enormous parking lot with a baseball style concession stand and two water slides, one that went straight down at a near 90 degree angle to the earth, and another one that looped and turned, going inside the one indoor pool for swim teams and back out again. "The Beach" also had a kiddie area but the thing folks were most excited about was the wave pool… I had no idea what a wave pool was.
 I had spent every summer of my childhood, up to this one, at the public pool just down the street from my house. It was next to my elementary school and across the street from my grandparents' house. I loved that pool, I loved the cheap snacks and the blue painted walls of the deep end, I loved the diving boards, both the low board and what in my memory was a towering high dive. But most of all, what I loved was the stillness of the water… there was no movement, no surprises, the depth was clear and the only way to get a wave was by making one yourself by bobbing up and down with your whole body until the water began moving at your command. I knew every inch of that pool, I'd learned to float and swim and sink to the bottom, I was never afraid. I was comfortable in that pool…
From the first moment I walk into "The Beach" I am not so comfortable… as an awkward teenage girl one of my favorite things about the public pool was that I could get in… up to my neck… the deep pool here at "The Beach" was reserved for the swim teams and the deepest end of the wave pool was only about four feet… I immediately walked out towards the deepest part and sat down with a friend… the water didn't seem very wavy to me, and I didn't know what to expect. We weren't really beach people in my family… In fact I don't think my dad's legs have ever seen the sunshine… we were road trip people, not water people. I had never seen, let alone experienced ocean waves in person.
So we're sitting there in lukewarm water up to our waists and suddenly a bell rang and some of the kids started yelling with excitement. The wave started small and gentle… just a little bump in the water – I wasn't impressed. But then it began to swell up over my face so I stood up but I couldn't find my footing and the wave carried me off towards the back wall – I couldn't see my friend anymore and I tried to put my feet down but I got a mouthful of water and even though I knew I could touch I started to panic and I went under with the wave, I'd never been in water I couldn't control.  I had never felt more out of control.
The next thing I know there was another loud ringing and a boy, only a few years older than me, sort of pull-drags me out of the water towards the wading end. He is the lifeguard and saw me go under and hit the alarm, the waves stopped because of me" he said. "I had to jump in and save you" he said. As he leaves me still coughing at the shallowest edge he yells at me, "if I couldn't swim I should stay out of the pool, that if I came back in I had to wear a life vest…"
I didn't visit "the Beach" again that summer…
To some degree this was due to embarrassment, sure, but I've never trusted water in the same way after that experience. Water is unpredictable – it can be life-giving and nourishing… we swim in water before we are born, our bodies are made up in large part by water, we need it to survive, almost every civilization that has survived and thrived through history has grown up near large, life-giving bodies of water – even the ancient Egyptians in our story this morning, the Nile served as their life-source – water to drink, to raise livestock, to water fields, to move easily between settlements – it was as important of a resource as the slave-trade they had built their economy on.
At the same time, water rises up and destroys us. Flood, tsunami, torrential rains and hurricanes destroy the earth and entire civilizations. Water moves to the music of deep currents, heavy wind and the earths dancing rotation. Just a few weeks ago we heard the epic story of floodwater so deep and destructive it cleared the earth – except for one family.
And this is where we encounter the ancient Israelites… on the bank, stuck between the terror they know – in Pharaoh's whip, and the unknown terror ahead – in the unpredictable waters of the Reed Sea.
The Israelites are terrified…"Was it because there were no graves in Egypt that you have taken us away to die in the wilderness? What have you done to us, bringing us out of Egypt? Is this not the very thing we told you in Egypt, "Let us alone and let us serve the Egyptians'? For it would have been better for us to serve the Egyptians than to die in the wilderness." Their hysteria reminds me of the kind of thrashing that happens when you feel as if you're drowning… it's a wild and desperate fear.
Can you imagine it?
What must it have felt like, to taste freedom, only to face death? I imagine their choking anger at Moses… and God, and their heaving despair at the thought of capture… of return to slavery. Their fear would have been palpable – their voices rising to be heard over the sound of the chariots at their back and the waves beating the seashore in front of them.
Moses says, do not be afraid. Stand firm… be still… it's the most counter-intuitive move isn't it? When you're drowning? To stop flailing around and put your arms in the water.
There's a beautiful Jewish Midrash that sometimes accompanies this story when it's told in synagogue. There is another brave man standing on the seashore. His name is Nachshon and he is from the tribe of Judah… one legend says he is Judah's great, great, great grandson, another says he is the brother in-law of Aaron. But one midrash telling goes like this, 'While the people were terrified, immobilized by fear, Moses listens to God and stretches his hand out over the sea, but the sea refuses to part saying, no, I was born on the 3rd day of creation and I will not be moved for these people… why should I rescue them? They too have worshiped idols in Egypt. They have forgotten who they are.
And so Nachshon , from the tribe of Judah, wades into the water, first up to his knees, and then to his waist, and finally the water reaches his nostrils and just as he is about to disappear into the sea, the water rises up on both sides – the breath of God – the ruach of God, blows through pushing the water into moving, swelling, liquid walls and drying the land for the Israelites to walk across.
In this telling someone had to go first… someone has to harness their fears and give into the future and walk out into the troubled water.
Can you think if the liminal moments in your own life in which you've had to face your fears? When you've had to move forward simply because backwards wasn't an option? Can you think of a moment you've stopped fighting, or worrying, or wrestling and given yourself to the moment?
Have you ever gone still and put yourself in the care of God, completely?
There are as many readings of this story as there are ears to hear it and tongues to tell it. For some, it is a story of liberation – of God seeing, hearing and responding to the desperate cries of the oppressed, it is a story about a God who will not abide the evil of abuse and terror. For others, it is a story about God's power in the face of human fragility – a reminder that without God we are helpless. And for others it's another terrifying story of death and destruction with God acting in ways we can't quite comprehend.
The Israelites will spend the next forty years in the wilderness, sometimes eagerly and sometimes stubbornly finding their way, they will wrestle and push and pull as they come to know, to trust this God claiming to be the God of their ancestors – on each leg of their journey they will offer us a new perspective on who God is and how God works in the world… they will begin to tell stories like Nachshon's story to fill in the gaps and interpret their own texts.
But for this instance, on the seashore, amidst the terror and the din of the waves, their story stands still for just a moment. They don't know what their future will hold, they only know the whispered promises of an ancient blessing and they have to act. And so they stop flailing, they put their hands down and grab onto one another, they put one foot in front of the other and they cross the sea on dry land. And nothing was ever the same again.
In our tradition, this is what we say we're doing at our own baptism… we stand on the seashore in solidarity with the ancient Israelites and we say, "Our story is not our own, these are not our waters to control, we don't belong to the Pharaohs of the world, we belong to God." We wade into the waters of our baptism, and we trust God's life-giving, creation making, chaotic and powerful waters… we trust God to trouble the water in order to transform us and we emerge on the other side – not just alive, not just surviving, but made wholly new. Amen.
(997)