If you'd rather hear the audio click below! 
Love is a binding force, by which another is joined to me and cherished by myself. ~Thomas Aquinas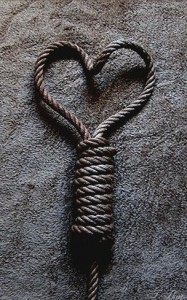 Before I read the scripture I reminded folks that we're using the Narrative Lectionary – that it includes longer portions of text so that we can see the arc of the story… but even with these longer passages moving from the creation story to the middle of Abraham's story in Genesis 22 is quite a leap; and so I began by asking: Do you remember the beginning of Abraham's story? When God first called him? Genesis 12 tells us that Abraham was 75 years old when God told him, "I will make of you a great nation and will bless you. I will make your name respected, and you will be a blessing." Blessed to be a blessing… it a beautiful beginning to a story in which God comes along side Abraham again and again as they travel together. God saves Abraham's skin and Abraham goes where God tells him… over the years and miles Abraham challenges God, welcomes God and even laughs at God when God tells him that Sarah is going to have a child. Do you remember when Sarah laughed too? But then it came true…
Genesis 21:1-3 tells us,
21:1 The Lord was attentive to Sarah just as he had said, and the Lord carried out just what he had promised her. 2 She became pregnant and gave birth to a son for Abraham when he was old, at the very time God had told him. 3 Abraham named his son—the one Sarah bore him—Isaac (meaning laughter).
then in Genesis 22:1-19
22:1 after these events [Many years later… some scholars say at least 10 or 11 but some rabbinic sources say 30.], God tested Abraham and said to him, "Abraham!"
Abraham answered, "Here I am."
2 God said, "Take your son, your only son whom you love, Isaac, and go to the land of Moriah. Offer him up as an entirely burned offering there on one of the mountains that I will show you." 3 Abraham got up early in the morning, harnessed his donkey, and took two of his young men with him, together with his son Isaac. He split the wood for the entirely burned offering, set out, and went to the place God had described to him.
4 On the third day, Abraham looked up and saw the place at a distance. 5 Abraham said to his servants, "Stay here with the donkey. The boy and I will walk up there, worship, and then come back to you."
6 Abraham took the wood for the entirely burned offering and laid it on his son Isaac. He took the fire and the knife in his hand, and the two of them walked on together.
7 Isaac said to his father Abraham, "My father?"
Abraham said, "Here I am, my son."
Isaac said, "Here is the fire and the wood, but where is the lamb for the entirely burned offering?"
8 Abraham said, "The lamb for the entirely burned offering? God will provide (or see) it, my son." The two of them walked on together.
9 They arrived at the place God had described to him. Abraham built an altar there and arranged the wood on it. He tied up his son Isaac and laid him on the altar on top of the wood. 10 Then Abraham stretched out his hand and took the knife to kill his son as a sacrifice.
11 But the Lord's messenger called out to Abraham from heaven, "Abraham? Abraham?"
Abraham said, "Here I am."
12 The messenger said, "Don't stretch out your hand against the young man, and don't do anything to him. I now know that you revere God and didn't hold back your son, your only son, from me."13 Abraham looked up and saw a single ram caught by its horns in the dense underbrush. Abraham went over, took the ram, and offered it as an entirely burned offering instead of his son. 14 Abraham named that place "the Lord sees (or provides)." That is the reason people today say, "On this mountain the Lord is seen."
Sermon: Unbinding
So, this is terrible story… there's simply no way around it… according to the Genesis story-teller God sets out to test Abraham… Abraham who is an old man, Abraham who has followed God, fought for God, believed God, loved God… Abraham who has given up his other son already, Ishmael and Hagar have already been exiled and when Abraham argued for them to stay God promised Abraham… that while Ishmael would be safe it was Isaac who would bear their family's future… and now God demands this unthinkable sacrifice…
Who is this God? Why would the God of life command Abraham to do this? The God who brought the world to life in our Genesis story from last week. How does that jive with this image of God… this picture of what it means to be faithful? When I read this story I can't help but think of all the horrifying things human beings have done to one another, to our children in the name of God – even in our own time. What kind of God would ask for such a thing? Does God really give tests? To find out if we love God enough? If we fear God enough?
I keep winding my way in and out of the story, looking for a loop hole, looking for an explanation then realize I've really only bound God or myself up in a whole other mess… and that was an ah-ha moment… the moment I realized this story binds up God… as much as it does Isaac.
This is where how we read the bible becomes really important. Some would argue that if the bible is the Word of God then it is perfect, that it is never wrong… but it is compiled of stories told and written by imperfect people and about imperfect people – just like us. Our biblical stories were written by people who were influenced by the time and place they lived. Their lives informed how they understood the world around them, and most importantly how they understood God. The perfection in our sacred texts is not in its ability to be factual or historical – there are places where this is the case – but it's perfection is it's ability to point to the way God enters into our human story again and again… we're invited to read the bible as the story of how the people of God, work, wrestle with and learn about God… how they hear, explain and are moved and changed by God… and maybe even how God is changed by them.
This is one of those stories that is really hard to peel back and hear from Abraham's perspective… it has been used to bind up God for so long… it's been told as a parable to elicit obedience. It's been used to make God into a hungry monster, in need of appeasement, it's been used to describe the need for blood sacrifice to pay for human sin… but for Abraham the emphasis of the story is not on the need for sacrifice… but the moment that need is lifted.
The language of sacrifice wasn't uncommon in ancient cultures it was the norm. There were religious cults that sacrificed someone every time the sun rose. It was common practice to offer one's self as a sacrifice and sacrifice was seen as a way to both honor God and give a portion of what belongs to God back to God…
Last week I told you that most scholars believe these Genesis stories – the Abrahamic tradition – was written down or compiled during the Babylonian exile or right after. Surrounded by a culture of sacrifice and violence the Israelites were learning to describe their God differently. Just like the creation story paints a picture of a creative and life-giving God… in a weird way this story does the same. Imagine telling this story in a setting where the first half isn't at all surprising or out of the ordinary… imagine telling the story to a crowd of people who are nodding affirmatively when you say that part about God testing Abraham… yeah, that seems right… I've heard of gods doing that…
Then comes the part where God requires a sacrifice… yeah, heads nod… gods always seem to need that…
The story unfolds, the audience was likely ready for it to happen, like it had so many times before. An entirely burnt offering, consumed by the fire, offered to God as a sign of repentance, honor, gratitude.
But then the story takes a surprising turn, from out of no where comes a young ram… and God calling out to Abraham, I know you revere me, don't do anything to harm him. God lifts the requirement of human sacrifice… God unbind Isaac, God unbinds Abraham, God unbinds the story of violence and death.
Israel continues to tell stories in opposition to the stories around them… non-violent creation stories… alternative ending to child sacrifice… it's a counter testimony. The true God doesn't work through violent means, does not require the sacrifice of our lives… but provides for our life.
It would take many more generations and the destruction of the temple for the people of Israel to let go of animal sacrifice – Abraham substituted the ram for Isaac, as he seemed to believe that some sacrifice must be made. But this is a wonderful story about a turning point in the way the people of God understand what God truly requires.
The evolution of how we see and understand who God is unfolds in these sacrificial stories. The book of Leviticus is filled with instructions about making sacrifices to God but then later in proverbs it says "Doing charity and justice is more desirable to the Lord than sacrifice" (21:3).
The prophet Jeremiah tells us that God never intended for the people to sacrifice their children, he says this is the word God, "Because the people have forsaken me, and have profaned this place by making offerings in it to other gods whom neither they nor their ancestors nor the kings of Judah have known; and because they have filled this place with the blood of the innocent, and gone on building the high places of Baal to burn their children in the fire as burnt offerings to Baal, which I did not command or decree, nor did it enter my mind… this place shall no more be called Topheth, or the valley of the son of Hinnom, but the valley of Slaughter." (19: 4-6)
And then the prophet Ezekiel reports that God says this of sacrificial practices, "Moreover I gave them statutes that were not good and ordinances by which they could not live." (20:25-26)
And in Hosea we read, "Therefore the days are surely coming, says the LORD, when 'Loving-kindness I desire, not sacrifice.'" (6:6)
These prophets show how complex our story of God is, but they also give us permission to not only see the way in which the people of God change but how God might be changed by the people… a friend of mine suggests that it is God that learns something in this story, "God learns that God's capable of wounding God's loved ones, even though God was sure it was the right thing to challenge and grow Abraham's faith in this dramatic way." He says, "Maybe God finally learned how fragile people are, and how little God knows about them, maybe it's events like these that makes God finally determine to, ultimately, simply become one of us." (David Huth, via facebook!)
How we read the biblical stories matter… are we reading them for facts or something deeper, something more true? Do we hear the stories of the people of God as stagnant, frozen in time and place or do we believe the story of God is a living breath, ongoing story still in the making?
The biblical story is not meant to bind God. The bible is meant to open God, to shed light on God and our path towards God… and God's path towards us.
Binding up the rope (I actually had a rope and started binding it up) – In our context we need to ask ourselves, are there ways in which we bind God, squeezing the life out? How do we understand the role God takes in the midst of the violence in our world? Do we witness death and destruction, experience loss, confusion, and rejections and then project it onto God? Obvious examples are Westboro Baptist Church or Jerry Falwell – and we stand in opposition to their views about God's punishment, violent activity through natural disaster and hate… but where does this way of seeing God creep into our own stories about how the world works?
How often when I was a chaplain – meeting with folks from every religion and even no religion and I would often hear the desperate plea, why is God doing this to me? Why is God punishing me? It's like this story of a vengeful God is imprinted on our hearts and can't be undone.
I would say," God isn't against you, God is with you, God does not hate you, God loves you. God has not abandoned you."
Where does this bound up idea of God get us?  How do we bind ourselves up in stories of anxiety (scarcity), anger (pain and suffering), hatred (when we imagine life is easier for others), disappointment (when we don't get what we expected…hoped etc – sacrificing ourselves on the alter of fear – are there ways in which we haven't relinquished the notion that God requires, even causes our pain?
Then there is an unbinding of the rope (unfurled the rope in my hands) – Can we imagine an unbinding? Can we imagine a God that doesn't incite fear, but love – that doesn't punish us for our fears but comes along side us? Can we look at the whole of the story of God, and see that God never, never abandons us? Can we hear the good news that just as God sees and provides for Abraham and Isaac God will do the same for us? Do we hear God's promise, God's release?
For Christians the ultimate story of God's unbinding is in God's willingness to enter into human experience, to become human and walk among us. No longer a God far away, but a God here and now, dirty feet planted on the earth, come in person to challenge the forces of hate and destruction… unable to even be bound by the cross… he defeats death on a quiet morning slipping among his disciples, men and women, whispering words of life in their ears… whispering words of life in ours…
The questions we're asking through out this fall: Who Is God in me? Who am I in God? (Diana Butler Bass) It was a lot easier and more fun to ask and answer this question last week when it was about a creative life-giving God wasn't it! What about an unbound God?
Who is the unbound God in me?
What if God is flowing freely through you? What is undoing in you? How is God softening your heart? Loosening your tongue? What is God setting you free from? What words of life does God have for you?
Who am I, unbound in God?
What if you are a force for change in the world? What words of life do you have for those around you, for God? 
There is also a good binding… the binding we do in communities like this one, where we bind our stories and ourselves together as a people of God, and imperfectly go about doing God's work in the world together. In doing this we bind ourselves to God, not in a painful or bloody way, but in a life-giving way. We entrust our story to the story of God that is bigger than us, that has been unfolding for generations and will continue to unfold long after we leave this earth.  It is not a stagnant story or a dying story; it is a living, breathing story without end. Amen.
(24263)