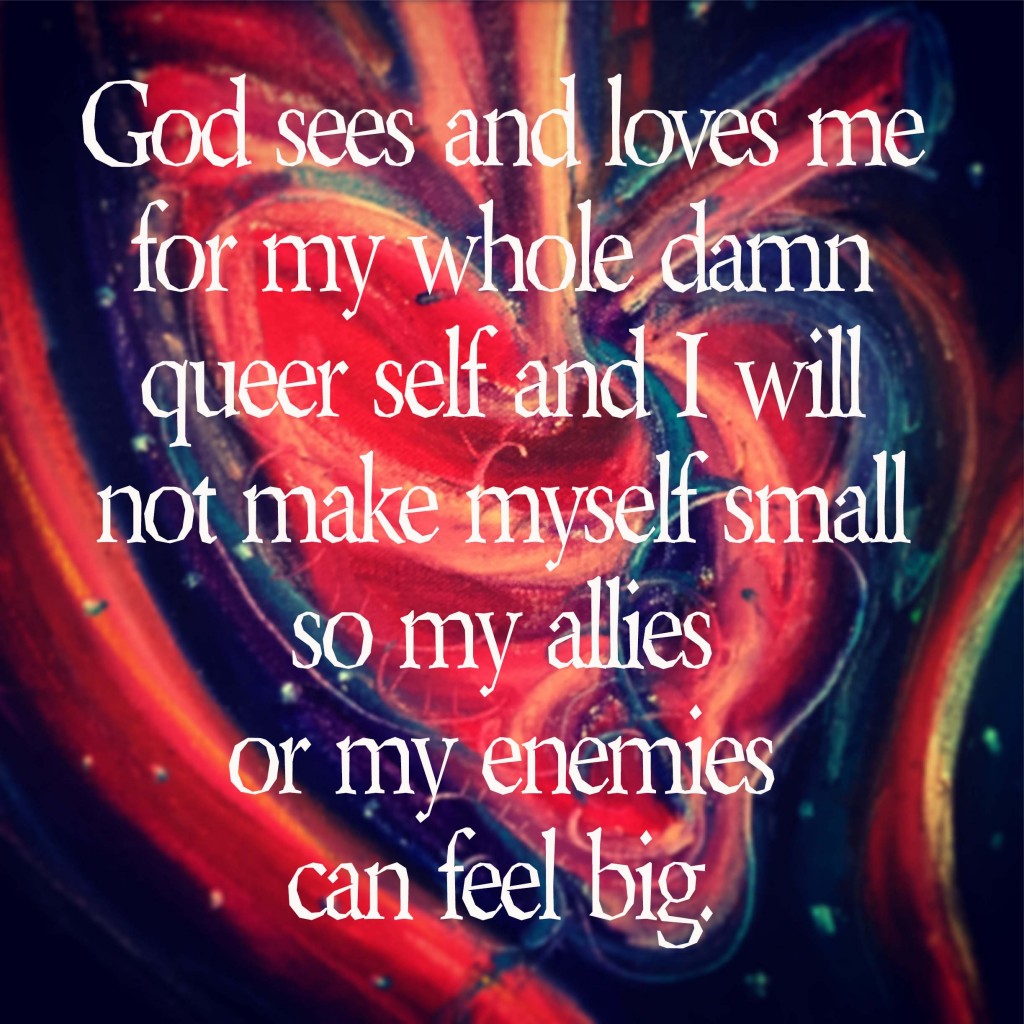 We Tell The Truth About Ourselves
I have a confession to make.
Today I am angry. I can feel my heart hardening with hate.
I'm angry and I don't want to make friends or make nice or make it easy on anyone who has every abandoned, remained silent or turned their back on Lesbain, Gay, Bisexual, Transgender or Queer folks.
I don't have any compassion to spare, I don't care if it was hard when your kid came out, I don't care if you did hard work and changed your mind. I don't care if you love the sinner but just hate the sin. I don't care if your theology, your tradition, your family grounds your belief.
If you can't love, celebrate and stand with us then you are helping to kill us.
Today I am angry. I can feel my heart hardening with hate.
Today I will tell the truth and hope it will save me.
God, if you can't transform my hardening heart, then who?
I hate that no matter how vulnerable and real we are in the LGBTQ community there are some who are louder and more powerful who will twist our beautiful lives and complex stories and make us villains.
I hate that when we share our stories, our gifts, our resources and ourselves with the communities we live in and work in we are made to feel like curriculum and curiosities.
I hate that the overwhelming message – even in progressive hetero communities and institutions – tells us that we should be grateful to be included or invited to the table.
I hate when I fucking feel grateful.
I hate that we're expected to keep our identities, our families our living milestones on the down-low so folks in our families or neighborhoods or churches who are afraid and uncomfortable around queer folks can be made to feel safe. Safe? Really?
I hate when we make excuses about generational differences, cultural norms and geography to excuse hateful bigotry and homophobic behaviors as if there aren't queer folk suffering in silence and isolation in every single corner of time and space.
I hate how trickle down civil rights is as failed an experiment as trickle down economics and only works to divide and isolate oppressed communities, pitting us against one another in a hunger-games-for-civil rights.
I hate that when I meet new people I always think twice and still, still, still revert to gender generic terms for my wife and queer family until I know where I stand.
I hate that I fucking lie by omission or fail to correct someone else's assumptions almost every single day.
I hate how quickly I rush to apologize when I make someone uncomfortable.
I hate the paternalistic eye-rolling, the disbelief and the defensiveness that meets my efforts to share my story, my feelings and my best attempts to describe my gender fluid, queer identity.
I hate that when I met friends for a birthday celebration yesterday we discussed how we – a group of visible queer folks and friends – would need to be on high alert for a potential fucking gunman. Yes. I said gunMAN.
I hate how lgbtq spaces fill up with more wounds and war stories than love stories, and tears stream down my face when the truest anthem we can sing together is, "You don't know me!"
I confess – I do not want your apology and I will not crawl on my knees begging to be seen and heard, known and loved or acknowledged.
The truth is, I am seen and heard and loved.
I am loved I am loved I am loved.
God sees and loves me for my whole damn queer self and I will not make myself small so my allies or my enemies can feel big.
This is my prayer. This is my confession.
Transform this hate O God – be the salve that will soften my hard heart.
Transform this hate O God – give me courage to tell the truth.
Transform this hate O God – restore my gentleness.
Transform this hate O God – break the hearts of our hatefulness and pour your grace upon us.
***
I write this today, remembering Amy J Snedeker. Our friend and fellow pastor, Amy suggested we call it the time where "We Tell The Truth About Ourselves." You know, that moment in Reformed Worship we've long called the Prayer of Confession? Our worship team was trying to find descriptive titles for the parts of worship so that new folks, old folks, skeptics and those who are sure could all understand and embrace the work of the people – the work we do together when we come together to worship.
Almost a year ago our friend Amy died after a long battle with cancer. She was one of the truthiest people I know. She was irreverent and funny and faithful and she could tell the truth with a remarkable gentleness that didn't let you off the hook but helped you see real deep inside yourself. Amy was a same-gender loving woman, I wish she were here right now.
(1855)