A sermon from when God drops into the life of one man and calls forth a movement people, based on the Narrative Lectionary Year 1.
Genesis 12: 1-9
The journey of a thousand miles begins with one step. ~Lao Tzu
Here are some questions I have about this story:
How did Abram even hear God?
How did he know it was this God? His God? We've come to call our God the God of Abraham… the God of the ancient Israelites but that story has yet to be told… How did Abram know God's voice?
How do we know God's voice?? How do we discern when it really really God calling us out?
And how would you respond to a call like Abram's?
I'm going to tell you the truth. This week. This moment. After the sting of the flood story still fresh in my memory, with nothing more to go on than an ambiguous blessing… If I were Abraham I'd say no.
If I were Abraham, I'd say: I don't want to go. 
Think about all that Abraham has to lose… according to chapter 11 of Genesis his family had lived for hundreds of years in the land of Ur of Chaldean and then moved in his adulthood to Haran where they have just build a life together. He and Sarah and their siblings and his family and her family, they had land and livelihood, livestock and belongings… in other words… some amount of stability.
There are other stories of a call to action, for a people to migrate that make sense to me later in our biblical story… when we come to the exodus story – for sure – those folks are going to want to escape the tyranny of Egypt… and later when the Israelites find themselves under siege they have no choice but to move into exile… but this. This is the beginning of the story – this feels like the defining moment of being asked to be a moving people – a people who God will never stop calling to move, to transform, to change direction and to change the world, this is the moment God makes a promise that will take generations to unfold, a promise that still hasn't come completely to fruition. It's a mighty calling requiring so much of them… so much of us…
I think I might say: I don't want to go.
How many of you know something about Dr. Who?
At the crux of this story that spans generations there is a constant character called the Doctor…  similar to our biblical heroes, this character's age and how time passes in his story is unclear, but the story goes that he is an ancient character that has moved forward and backwards in time for something like 1000 years… I love a lot of things about this story… it's a great adventure and I love the way it delves into the concept of time and history, what's written in stone and how the story can be changed with the simplest encounter… but the piece I love the most is the transformation the Doctor goes through every few hundred years…
This is a TV show that has spanned years and if you were cynical you might write these transitions off as a clever way to change up actors and still keep a storyline intact but these transformations are written into the story as a heartbreaking necessity… there comes a time the world requires that the Doctor take on a new form, a new identity, even a new personality… his memories remain somewhat intact but he goes through a process of transformation… of regeneration… that requires him to let go a great many things go so he can live into the future…
This clip is of the Dr.… right before he is transformed (regenerated), and he knows he must go, and he knows he will still be, but he also knows that things will never be the same… I don't want to go… 
It's such a natural response when we face a great change isn't it?
Can you think of the times you've encountered great change?
When you've made a move or changed professions?
Become a parent or partner?
When you've said yes even though you felt unqualified and unprepared?
When you've had to move forward into an unknown future?
What gave you courage to move forward? Why did you say yes?
Sometimes we go because we're naïve – we go because we hear this story, we hear this promise:
I will make of you a great nation (tribe, family, community)
I will bless you.
I will make your name respected…
You will be a blessing.
We move forward because we believe in the blessing and want to be a blessing… and we trust a story that isn't yet written and we have no idea that it's going to be much harder and heartbreaking than we can imagine…
When I got to the end of my three years in seminary I sat with a panel of professors, my advisor and a couple of other Profs. I had invited… and one of them asked me towards the end of our lovely conversation, almost in passing, "was there anything I would have done differently?" and without thinking twice I said, "yeah, I wouldn't have come."
Don't get me wrong… I loved seminary, I loved the way it stretched and challenged me, I loved the community that we created there, I loved the way my faith was deepened and my identity was shaped in what was really such a short but intense time… but I'd be lying if I didn't tell you that if you had sat down my naïve and hopeful twenty-something, small town Iowa self and said:
"The next three years will be harder than you can imagine. You will be confronted by all the ways in which you fall short, you will have to face your own inner demons and make peace with the broken parts of yourself if you have any hope of loving others in a whole and pastoral way… your sense of call, your faith and the gifts that you think you're bringing to ministry will feel inadequate in the face of the overwhelming loss and the deep needs you will actually encounter… your theological notions, all your ideas about who God is and how God works in the world will be deconstructed and put to the test and then in the midst of practicing ministry you will be invited to reconstruct something from the rubble, you will struggle to find your voice and hold on to it, your family will be stretched and your marriage will end… you will have to confront some things and let go of some things and you will rediscover who you are again and again."
I told them, "If I had known then what I know now, I would have said, no, I don't want to go…"
Isn't that the true story of all the hardest and best parts of our lives? That had we known how hard the work — the job of parenting, of adult care-giving, of loving someone besides ourselves, even truly loving ourselves would be – if we knew up front what it would require us to give and give up we would never agree to take even the first step into the great unknown… and that's crux of it… later on, after Abraham has already begun the journey, God tells Abraham, it's going to be a struggle… its going to be a long, long journey, a journey that included bondage and exile, wilderness and famine… "days will come that I couldn't feel farther away."
I don't know about you but there are days in which God truly does feel far away. We continue to fight with one another, in our churches and in the world… we're still, thousands of years after this story is told and recorded, we are still arguing over who this blessing… this blessing we are reading and preaching and praying about this morning, belongs to. And it's not just this blessing we fight over, the religious community is as polarized as the politics in this country. I read article after article about how the church is dying, how we don't know how or simply don't want to be relevant, how folks are continuously wounded and rejected… it's a terrible story and I'm so tired of this story… of this life-sucking narrative… but in many ways it's an easier story to tell than the great-unknown story staring at us from the future…
After Abraham agrees to follow God's instructions, after he has already made his way south towards the land of Canaan God take Abraham outside and says,
"Look towards heaven and count the stars, if you are able to count them." Then God said to Abram, "So shall your descendants be." And Abraham trusted God; and God recognized Abram's righteousness." (Genesis 15:5-6)
There are billions of stars, in our galaxy alone, and the ones we look up and see are light years away – some of them already dead and others just being born… what an amazing ancient analogy for our contemporary eyes… there is more to life, there is more living and dying and more hope and struggle, there is more time and space and creation than we can possibly see… and the only thing to do is stand in wonder… to be amazed.
Recently I was painting at a conference in Atlanta and Brian McLaren was talking to mostly progressive mainline folks (like myself) about some of things that we must let go of if we are going to live into the future God is calling the church… if we are not only to survive but to be a life-giving movement of God's love in the world… I can't remember everything he listed that would help get us moving but at one point he said, "we have to give up our cynicism." And man, I almost dropped my paint stick… give up cynicism?! Dude, I love cynicism … I am at home in my cynicism… I am comfortable in my progressive, self-righteous cynicism… to tell you the truth, I've been cynical about Brian McLaren… it was like being doubly convicted!
And yet, Immediately, I knew he was right… If I am going to live a life of faith, if I'm going to put one foot in front of the other and believe God is calling us into a transforming future then I'm going to have to lay down my cynicism and put my wide-eyed wonder on and trust God.
Can we trust God with this infinite human story that doesn't end with us? Can you? What must you leave behind in order to move on? What will you say in answer to God's call? Will you stay or will you go?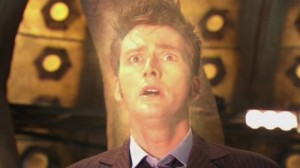 (586)